The Rueslåtten Cheesemakers production is adjoined to the Rueslåtten farm. Rueslåtten is one of Norway's approved cheesemakers for production of cheese from raw (unpasteurized) milk. There are 16 different breeds of cows living in the cowshed:  Telemark, West Coast Fjord, Jersey and Norwegian Red Cattle—each of them giving milk of different qualities. During the summer, the cows are out at the summer mountain dairy farm (støl), just where happy cows should be.
Both the farm and Rueslåtten Cheesemakers are run by Jarle Rueslåtten and his partner, Rakel. Rueslåtten Cheesemakers produces cheese from both cows' and goats' milk. Øvrejordet farm delivers world-class goats' milk to Rueslåtten Cheesemakers, which only happens when one has healthy and happy goats. After a few years of product development, Rueslåtten Cheesemakers now concentrates on 6 different cheeses—2 of which have won bronze medals at the World Championships in Cheesemaking, and several medals at the Norwegian Championships in Farm Cheesemaking.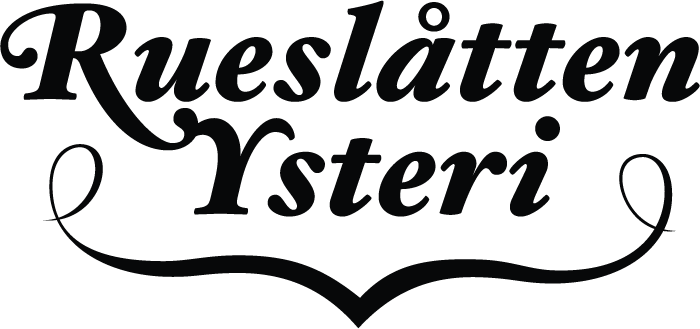 StoreVelten is a large, solid, unpasteurized, aged cheese made of pure, raw, cows' milk. StoreVelten is sold in whole, 15 kilo wheels. It has a nice, mild taste that becomes stronger with longer aging. The wheels are aged a minimum of 6 months.
Why not try StoreVelten on your hamburger or pizza?
St. Pål is reminiscent of StoreVelten, but is made with equal amounts of cows' and goats' milk. The goats' milk from Øvrejorde makes St. Pål have a stronger taste, and to ripen a little faster. The cheese is aged a minimum of 6 months.
How about grating in a little St. Pål when making your Sunday omelet?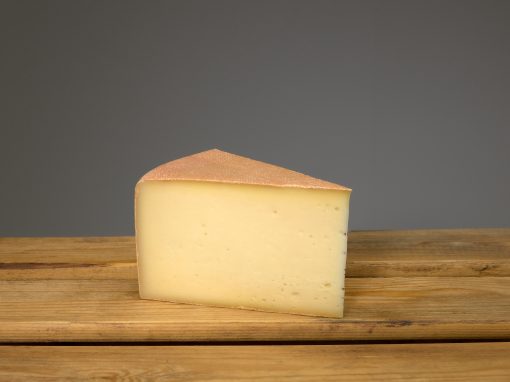 Rød Geit is a semi-hard red-putty cheese made with pure goats' milk. The red putty, in which the cheese is packed, is washed in salt water. This gives the cheese a good, and a little salty, taste. Rød Geit has been entered into the Cheese World Championships twice, in 2017 and 2018, and won the bronze medal both times.
How about serving a slightly larger piece of Red Geit together with some good honey?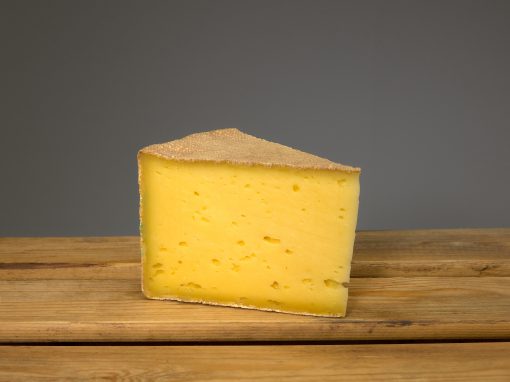 Lord Garvagh has a lot in common with Rød Geit, except that it is made with pure cows' milk. Lord Garvagh is a pasteurized, semi-solid, red-putty cheese that is washed in salt water. The cheese really tastes the best after it has been aged for at least 2 months. It has inherited the name from the British nobleman, Lord Garvagh; who really thrived in the local mountains in the olden days.
How about slightly warming a thick slice of Lord Garvagh in the oven and serving it with some home-baked rye bread?
Kubbeost (Log Cheese) of Goat
The log cheese made of goats' milk is a matured cream cheese that is matured with milk fungus. This cheese type is often called, Chevre. This cheese received a highly-regarded bronze medal in the Cheese World Championships in 2018. The wooden board which the cheese is resting on is made in cooperation with Vinn Hallingdal. The wooden boards are a part of the local value creation. It is important for the cheese, the farmer, and the environment.
How about cutting off a nice piece and warming it in the oven for a couple of minutes before serving it with black currant syrup and a few hazelnuts rolled in warm sugar?
Kubbeost (Log Cheese) of Cow
The log cheese of cows' milk is a mature cream cheese that is matured with milk fungus. The log cheese of cows' milk is made in November, December, and January; when the goats have a pause in milking, because they will soon have kids. The log cheese of cow is sold from 10 days after production and really tastes the best after 3-4 weeks.
How about homemade pizza with ham, fresh salad, and good pieces of log cheese on top after baking?